Gatorshield® Tubing for Trailer Construction
Gatorshield tubing with Flo-Coat is perfect for trailer construction. Review the various applications and specifications for Gatorshield galvanized steel tubing.
Download PDF
Why specify Allied Gatorshield® tubing for trailer Construction?
PRODUCT BENEFITS:
Superior strength 50,000 minimum PSI Yield/55,000 minimum PSI Tensile
Superior corrosion resistance with in-line hot-dip galvanizing process
Excellent match to any aluminum trailer frame
TIME AND COST SAVING BENEFITS FOR AXLE AND TONGUE TUBE:
Eliminates need to paint or powder coat after welding; no production line back-ups
Eliminates expense and labor of adding caps to protect spindles from hot dipping or painting
Organic topcoat acts as a primer for easy painting
UNIQUE, IN-LINE FLO-COAT®PROCESS:
Interior Corrosion Resistant Coating
Cold-Formed Steel Providing High Yield/High Tensile Strength
99.99% Pure Zinc
Conversion Coating
Clear Organic Coating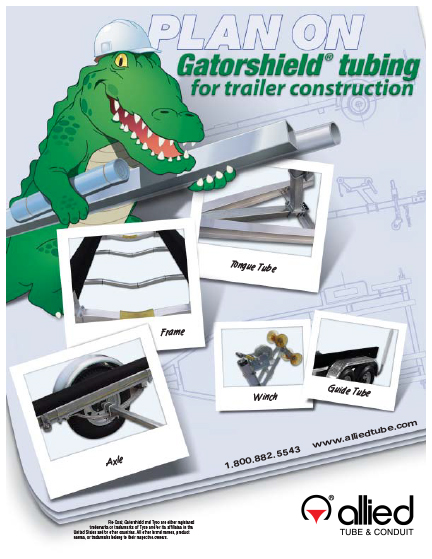 Salt Spray Tests
(Number of hours until first sign of red rust)
405 Hours
Pregalvanized G-90
567
Hot-Dip Schedule 40 Pipe
744
Competitive Triple-Coat Product
840
Allied Zinc Flo-Coat® Tubing
2016
Allied Gatorshield® Tubing
Tests conducted by Scientific Control Labs. Test results available upon request.
CORROSION RESISTANCE
Allied's galvanized steel tubing receives a triple-layer of corrosion protection. First, 99.99% pure zinc bonds to the tube, and is followed by a conversion coating. The third coating is a clear organic topcoat which "seals" the surface. The result is a smooth, shiny end product that is unmatched in terms of strength and durability.
SIZE RANGE
Round: 1/2″ – 5″, 22 ga to 1/4″ wall thickness
Square: 5/8″ to 4″, 20 ga to 1/4″ wall thickness
Rectangle: 5/8″ x 1 1/8″ to 3″ x 4″, 20 ga to 1/4″ wall thickness
Oval: 1″ x 1/2″ to 3 x 5.3″, 20 ga to 7 ga
Download PDF
< Return to Literature Library