In-line Galvanizing Steel Tubing: We're Turning the Conveyor Industry Inside Out
Allied's protects their tubing with an in-line hot-dip galvanizing process. Find out how they do it and why.
Download PDF
Requirement: Precision fit tubing for improved bearing mount.
Fulfillment: Inside diameter controlled tubing from Allied Tube and Conduit.
Our tubing can be manufactured from the inside-out, which results in all of the tolerance variation moving to the outside diameter. This ensures a precision bearing fit and a more consistent, truer roller. For extreme requirements I.D. flash control is available.
If standard tubing is all you need, we are the industry experts having sold over 30 million feet of tubing for roller conveyors.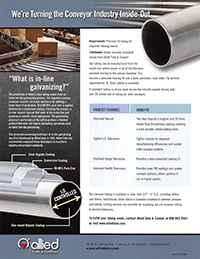 "What is in-line galvanizing?"
The protection of Allied's steel tubing comes from an inline hot-dip galvanizing process. Our signature process produces superior corrosion resistance by utilizing a triple-layer of protection. First 99.99% pure zinc is applied, followed by a conversion coating. Finishing the process is a clear organic topcoat that seals in the protection and produces a smooth, shiny appearance. This galvanizing process is performed on the mill to produce a finished product that does not require secondary operations such as batch hot-dip galvanizing.
The advanced processing technique of in-line galvanizing was first introduced by Allied back in 1959. Allied Tube has successfully employed these techniques to transform industry and product standards.
| Product Features | Benefits |
| --- | --- |
| Improved Topcoat | The clear topcoat is brighter and 50 times harder than the previous coating, creating a more durable, better-looking roller. |
| Tighter O.D. Tolerances | Tighter controls for improved manufacturing efficiencies and quieter roller conveyor systems. |
| Improved Gauge Tolerances | Provides a more consistent bearing fit. |
| Improved Ovality Tolerances | Provides lower TIR readings and quieter conveyor systems; allows systems to run at higher speeds. |
Download PDF
< Return to Literature Library