Poultry Housing
Gatorshield galvanized steel tubing is a durable and reliable solution for poultry housing. See all the advantages of steel vs. wood construction and the specific benefits of Gatorshield galvanized tubing.
Optimum Flock Performance

Lower Insurance Premiums

Greater Structural Integrity

Lower Cost per Bird
Download PDF
Benefits for Poultry Construction
All-metal poultry houses generally have a greater life span than wood-constructed buildings.
All-metal houses do not suffer the warping and sagging seen in wood buildings, and maintain the tightness needed to maintain the proper environment
Lower insurance premiums are assessed on all-metal housing, with less risk of fire and weather damage.
Wooden surfaces simply cannot be cleaned and disinfected as thoroughly as metal surfaces, even with high-pressure spraying.
Steel trusses offer greater clear spans, lowering cost per square foot and enabling the use of automatic catching equipment.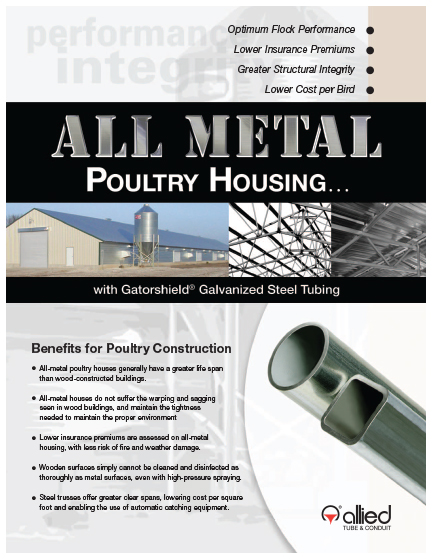 GATORSHIELD® ADVANTAGES
Gatorshield® galvanized steel tubing was developed for applications requiring high-strength mechanical properties and increased corrosion resistance, making it the ideal building product for poultry houses. Already used extensively in other metal structures such as greenhouses, dairy barns, and all types of commercial buildings, Gatorshield offers several advantages to building fabricators:
Superior Strength —
Minimum 50,000 psi yield strength and 55,000 psi tensile strength provide the ultimate in structural integrity.
Unsurpassed Corrosion Protection —
Gatorshield tubing is at least 25% more resistant to rust and corrosion than any competitive tube product…our unique Flo-Coat® process makes the difference.
Bright Finish —
The uniform Flo-Coat® process also gives Gatorshield tubing its smooth, shiny appearance that is unmatched in terms of durability.
Ease of Fabrication —
No chipping or flaking of the base material when bending or flattening.
Versatility —
Gatorshield tubing is available in a wide range of sizes in round, square and rectangular shapes for use in many different applications.
Vs. WOOD
In addition to the above benefits, steel has inherent advantages over wood as a building material.
Steel will not rot, shrink, swell, split or warp.

Steel is non-combustible.

Steel is competitively priced and consistent in quality.

Steel can bear more load and creates greater clear spans.

Steel's strength and non-combustible qualities enable a steel building to better withstand fires, earthquakes, hurricanes and other devastating events.
Download PDF
< Return to Literature Library